Bruk av Big Books er en morsom måte å motivere elevene til å få lyst å lese og en spennende måte for dem å oppleve bøker. - Hovedformålet med Big Books er å skape en god opplevelse, er det blitt sagt. Størrelsen på bildene hjelper elevene til å holde på oppmerksomheten og følge historien samtidig som de lærer å lytte.
 
Big Books egner seg svært godt til shared reading, dvs. at en gruppe, liten eller stor, leser en bok sammen mens de sitter samlet rundt læreren. På denne måten kan elevene få støtte til å mestre en tekst som ligger like over deres lesenivå.
 
Noen viktige sider ved shared reading:
- lesere som strever, nyter godt av støtten som blir gitt til gruppa; de våger også å lese når det er mange som leser.
- sikrer at alle elevene føler at de lykkes fordi hjelpen som gis, gis til hele gruppa.
- fordi elevene er samlet i en gruppe rundt læreren, er det dannet et slags fellesskap der elevene føler seg oppmuntret og trygge til å lese med i et entusiastisk miljø.
- fremmer flyt i lesingen ved gjentatt lesning.
- kan brukes på alle lesenivå, men er nok mest aktuelt på de lavere klassestegene. 
Paige Bessick har mye og god erfaring med shared reading. Les mer her.
44 av titlene i WINGS Guided Reading og 20 fra WINGS Traditional Tales er utgitt også som Big Books.  
Størrelse: 36,5 x 50 cm
Pris: 265 kr (nivå 2 - 20) og 285 kr (nivå 21 - 26) pr. stk. Postens porto tilkommer. 
Oversikt over titler finner du under bildet.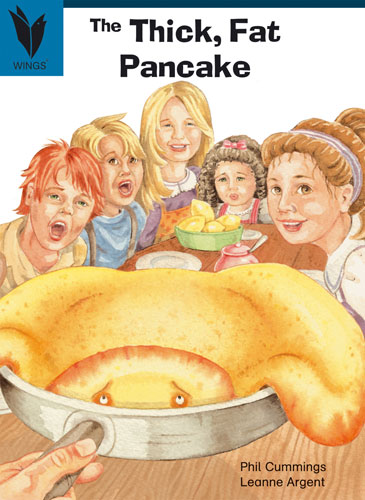 WINGS Big Books
Level 2          Ben's Bath, The Fish and the Cat, The Magnet, Share Bear
Level 3          The Alphabet Song, Good Dog, The Mean Giant,
                         The Monster, Sleepy Zoo
Level 4/5      Around and about, Chicks Don't say Quack, Crabs on a Rock,
                          No one Likes Me, Snails and Slugs
Level 6/7       Days at the Beach, Make a Worm Farm, The Mango Tree, 
                           Melon for Tea, The New Butterfly, Oh No!, Six Little Chicks
Level 8/9       Max and the Clouds, Trees, What a Waste
Level !0/11    Five Beans, Cluck!,Quack!, Moo!
Level 12/14   Making a Magnet, The Tricky Truck Track, What Shape is Water?
Level 15/17   How a Butterfly Farm Works, Ling's Monster, Lovely Lunch,
                             Wetland Birds
Level 18/20   The Best Pet, The Hatchling, The Night Dragon, What's This?
Level 21/23   Still as a Statue, Big Ned and the Eggs, Kitchen Scientist
Level 24/26   The Choclate Maker's Secret, Cyril the Dragon, Little Porro,
                              Mighty Minibeasts, Sly Tom
Traditional Tales Big Books
Level 5              The Gingerbread Man

Level 8              The Three little Pigs, The Ugly Duckling
Level 10/11     The Frog and the Ox, Little Red Riding Hood
Level 12/14     The Fox and the Crow, Poor Old Lady, The Billy Goats Gruff
Level 15/17     Town Mouse and Country Mouse, Babushka, Goldilock and the Three Bears, 
                               Jack and the Beanstilk, King Midas, The Thick, Fat Pancake
Level 18/20     Puss in Boots, The Bremen Town Musicians, The Emperor's New Clothes
Level 21/23     The Pied Piper of Hamelin
Level 24/26     Aladdin and the Lamp